DayZ System Requirements PC – Check out the minimum and recommended DayZ system requirements for pc. DayZ Can I Run It? Read more below and test your pc specs to find out if you pass the system requirements DayZ.

DayZ
DayZ is an unforgiving, authentic, open world sandbox online game where each one of 60 players on a server follows a single goal – to survive as long as they can, by all means necessary. There are no superficial tips, waypoints, built-in tutorials or help given to you. Every decision matters – with no save games, and no extra lives, every mistake can be lethal. If you fail, you lose everything and start over. Scavenging for supplies and roaming the open world never feels safe in DayZ, as you never know what's behind the next corner. Hostile player interactions, or simply just struggling through severe weather can easily turn into intense, nerve-racking moments where you experience very real emotions. On the other hand, meeting with another friendly survivor in DayZ can lead to a true friendship that lasts a lifetime…

DayZ System Requirements Minimum
OS: Windows 7, 8.1 and 10 (64-bit)
Processor: Intel Core i5-4430
Memory: 8 GB RAM
Graphics: NVIDIA GeForce GTX 760 or AMD R9 270X
DirectX: Version 11
Storage: 16 GB available space

DayZ System Requirements Recommended
OS: Windows 10 (64-bit)
Processor: Intel Core i5-6600K or AMD R5 1600X
Memory: 12 GB RAM
Graphics: NVIDIA GeForce GTX 1060 or AMD RX 580
DirectX: Version 12
Storage: 16 GB available space

Overview DayZ System Requirements PC – Can I Run It?

Can You Run It: DayZ
Check if your PC meets the DayZ requirements with free, easy-to-use detection tools or enter your system specifications manually. Click the Orange button below to start with the requirements test.


DayZ Steam
DayZ download is available on Steam. Download link to Steam: https://store.steampowered.com/app/221100/DayZ/


DayZ Gameplay (Video)

Nvidia / AMD Video Card Drivers
Always make sure to download the latest video card drivers on your computer. By downloading the latest video card drivers you reduce the chance of running into random errors and issues for your system. For more help with how to download video card drivers (Nvidia and AMD) on your computer use the Driver Updates section.

DayZ Screenshot
✅Can You Run It? If you would like to test and scan your current system requirements to check if you can run this game use the
Can You Run It Requirements Tool
.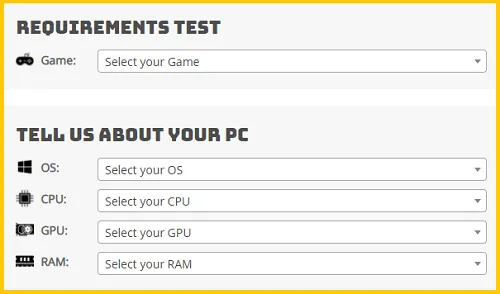 ℹMake sure your system meets the minimum requirements and minimum pc specs at least. Though it's recommended to have better specs than the minimum requirements so that the game runs more smoothly and can be played with higher in-game resolutions and graphics. Don't forget to check out our
Free Steam Games
list with all the best free steam games in 2022.