Roblox System Requirements PC – Check out the minimum and recommended Roblox pc requirements. Roblox Can I Run It? Read more below and test your pc specs to find out if you pass the Roblox system requirements.

Can I Run Roblox? Read more below
Roblox is an online game platform and game creation system developed by Roblox Corporation that allows users to program games and play games created by other users. Created by David Baszucki and Erik Cassel in 2004 and released in 2006, the platform hosts user-created games of multiple genres coded in the programming language Lua. For most of Roblox's history, it was relatively small, both as a platform and a company. Roblox began to grow rapidly in the second half of the 2010s, and this growth has been accelerated by the COVID-19 pandemic. Roblox is free to play, with in-game purchases available through a virtual currency called Robux. As of August 2020, Roblox had over 164 million monthly active users, including more than half of all American children under 16.

Roblox Minimum Requirements
OS: Windows 7, 8 and 10 (64-bit)
Processor: Intel Core 2 Duo Series AMD Athlon 64 X2 4000+
Memory: 1 GB RAM
Graphics: NVIDIA GeForce 6 Series AMD Radeon HD 2900
DirectX: Version 9
Storage: 50 MB available space

Roblox Recommended Requirements
OS: Windows 10 (64-bit)
Processor: Intel Core 2 Quad Series AMD Phenom II X4 945
Memory: 4 GB RAM
Graphics: NVIDIA GeForce 8600 GT AMD Radeon HD 3850
DirectX: Version 12
Storage: 50 MB available space

Overview Roblox Requirements PC – Roblox Can You Run It?

Can I Run It Roblox
Check if your PC meets the Roblox requirements with free, easy-to-use detection tools or enter your system specifications manually. Click the Orange button below to start with the requirements test.


Roblox Steam
Roblox download is available on the official website: https://www.roblox.com/


Roblox Gameplay (Video)

Nvidia / AMD Video Card Drivers
Always make sure to download the latest video card drivers on your computer. By downloading the latest video card drivers you reduce the chance of running into random errors and issues for your system. For more help with how to download video card drivers (Nvidia and AMD) on your computer use the Driver Updates section.

Roblox Screenshot
✅Can You Run It? If you would like to test and scan your current system requirements to check if you can run this game use the
Can You Run It Requirements Tool
.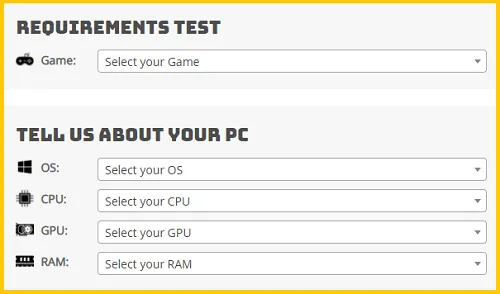 ℹMake sure your system meets the minimum requirements and minimum pc specs at least. Though it's recommended to have better specs than the minimum requirements so that the game runs more smoothly and can be played with higher in-game resolutions and graphics. Don't forget to check out our
Free Steam Games
list with all the best free steam games in 2022.