Star Citizen System Requirements PC – Check out the minimum and recommended Star Citizen pc requirements. Star Citizen Can I Run It? Read more below and test your pc specs to find out if you pass the Star Citizen system requirements.

Can I Run Star Citizen? Read more below
Star Citizen is an in-development multiplayer space trading and combat simulation game. The game is being developed and published by Cloud Imperium Games for Microsoft Windows. An extended retry of unrealized plans for Freelancer, Star Citizen is being led by director Chris Roberts. The game was announced on October 18, 2012 through a successful Kickstarter campaign which drew in over US$2 million. Pre-production of the game began in 2010, with production starting in 2011.

Star Citizen Minimum Requirements
OS: Windows 10 (64-bit)
Processor: Intel i5-4440 / AMD FX-6350 (newer is better)
Memory: 16 GB RAM
Graphics: NVIDIA GeForce GTX 960 / AMD Radeon R9 380
DirectX: Version 11
Storage: 100 GB available space

Star Citizen Recommended Requirements
OS: Windows 10 (64-bit)
Processor: Intel Core i7-4790 / AMD Ryzen 7 2700X
Memory: 32 GB RAM
Graphics: NVIDIA GeForce RTX 2070 / AMD Radeon RX 5700 XT or better
DirectX: Version 12
Storage: 100 GB available space

Overview Star Citizen Requirements PC – Star Citizen Can You Run It?

Can I Run It Star Citizen
Check if your PC meets the Star Citizen requirements with free, easy-to-use detection tools or enter your system specifications manually. Click the Orange button below to start with the requirements test.


Star Citizen Download
Star Citizen download is available on the official website: https://robertsspaceindustries.com/


Star Citizen Gameplay (Video)

Nvidia / AMD Video Card Drivers
Always make sure to download the latest video card drivers on your computer. By downloading the latest video card drivers you reduce the chance of running into random errors and issues for your system. For more help with how to download video card drivers (Nvidia and AMD) on your computer use the Driver Updates section.

Star Citizen Screenshot
✅Can You Run It? If you would like to test and scan your current system requirements to check if you can run this game use the
Can You Run It Requirements Tool
.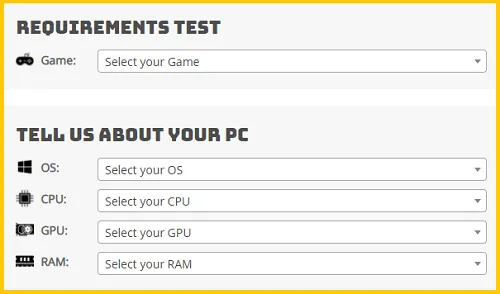 ℹMake sure your system meets the minimum requirements and minimum pc specs at least. Though it's recommended to have better specs than the minimum requirements so that the game runs more smoothly and can be played with higher in-game resolutions and graphics. Don't forget to check out our
Free Steam Games
list with all the best free steam games in 2022.