Turbo Overkill System Requirements PC – Check out the minimum and recommended Turbo Overkill pc requirements. Turbo Overkill Can I Run It? Read more below and test your pc specs to find out if you pass the Turbo Overkill system requirements.

Can I Run Turbo Overkill? Read more below
Heavily inspired by some of the all-time greats like Doom, Duke Nukem and Quake, with stunning cyberpunk visuals, Turbo Overkill is the most savage FPS ever released by Apogee. You play as half-metal, half-human, half-crazy Johnny Turbo, augmented with hidden arm rockets and a chainsaw that extends from your lower leg allowing you to kick-slice enemies wide open. In this Blade Runner-meets-DOOM hellscape, Johnny returns to his hometown of Paradise and finds its entire population possessed by Syn, a rogue AI, and its army of augmented minions. Desperate for enough money to outrun his past mistakes, Johnny takes on the impossible job of destroying the greatest AI ever created. Rival bounty hunters want to claim the prize first. Nothing is easy in paradise.

Turbo Overkill Minimum Requirements
OS: Windows 7, 8 and 10 (64-bit)
Processor: CPU with 2+ GHz, 4 cores
Memory: 8 GB RAM
Graphics: GeForce GTX 970 or R9 390X
DirectX: Version 10
Storage: 5 GB available space

Turbo Overkill Recommended Requirements
OS: Windows 10 (64-bit)
Processor: CPU with 3+ GHz, 8 cores
Memory: 16 GB RAM
Graphics: GeForce RTX 3060 or Radeon RX 6600 XT
DirectX: Version 12
Storage: 5 GB available space

Overview Turbo Overkill Requirements PC – Turbo Overkill Can You Run It?

Can I Run It Turbo Overkill
Check if your PC meets the Turbo Overkill requirements with free, easy-to-use detection tools or enter your system specifications manually. Click the Orange button below to start with the requirements test.


Turbo Overkill Steam
Turbo Overkill download is available on Steam. Download link to Steam: https://store.steampowered.com/app/1328350/Turbo_Overkill/


Turbo Overkill Gameplay (Video)

Nvidia / AMD Video Card Drivers
Always make sure to download the latest video card drivers on your computer. By downloading the latest video card drivers you reduce the chance of running into random errors and issues for your system. For more help with how to download video card drivers (Nvidia and AMD) on your computer use the Driver Updates section.

Turbo Overkill Screenshot
✅Can You Run It? If you would like to test and scan your current system requirements to check if you can run this game use the
Can You Run It Requirements Tool
.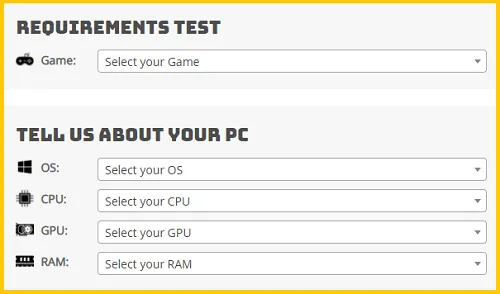 ℹMake sure your system meets the minimum requirements and minimum pc specs at least. Though it's recommended to have better specs than the minimum requirements so that the game runs more smoothly and can be played with higher in-game resolutions and graphics. Don't forget to check out our
Free Steam Games
list with all the best free steam games in 2022.