War Thunder System Requirements PC – Check out the minimum and recommended War Thunder pc requirements. War Thunder Can I Run It? Read more below and test your pc specs to find out if you pass the War Thunder system requirements.

Can I Run War Thunder? Read more below
War Thunder is the most comprehensive free-to-play, cross-platform, MMO military game dedicated to aviation, armoured vehicles, and naval craft, from the early 20th century to the most advanced modern combat units. Join now and take part in major battles on land, in the air, and at sea.

War Thunder Minimum Requirements
OS: Windows 7, 8 and 10 (64-bit)
Processor: Dual-Core 2.2 GHz
Memory: 4 GB RAM
Graphics: AMD Radeon 7730 / NVIDIA GeForce GTX 660. The minimum supported resolution for the game is 720p.
DirectX: Version 10
Storage: 95 GB available space

War Thunder Recommended Requirements
OS: Windows 10 (64-bit)
Processor: Intel Core i5 or Ryzen 5 3600 or better
Memory: 16 GB RAM
Graphics: Nvidia GeForce 1060 and higher, Radeon RX 570 and higher
DirectX: Version 12
Storage: 95 GB available space

Overview War Thunder Requirements PC – War Thunder Can You Run It?

Can I Run It War Thunder
Check if your PC meets the War Thunder requirements with free, easy-to-use detection tools or enter your system specifications manually. Click the Orange button below to start with the requirements test.


War Thunder Steam
War Thunder download is available on Steam. Download link to Steam: https://store.steampowered.com/app/236390/War_Thunder/


War Thunder Gameplay (Video)

Nvidia / AMD Video Card Drivers
Always make sure to download the latest video card drivers on your computer. By downloading the latest video card drivers you reduce the chance of running into random errors and issues for your system. For more help with how to download video card drivers (Nvidia and AMD) on your computer use the Driver Updates section.

War Thunder Screenshot
✅Can You Run It? If you would like to test and scan your current system requirements to check if you can run this game use the
Can You Run It Requirements Tool
.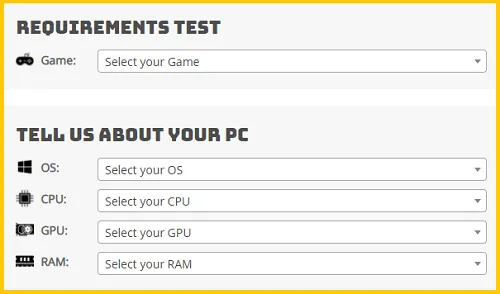 ℹMake sure your system meets the minimum requirements and minimum pc specs at least. Though it's recommended to have better specs than the minimum requirements so that the game runs more smoothly and can be played with higher in-game resolutions and graphics. Don't forget to check out our
Free Steam Games
list with all the best free steam games in 2022.