Among Us System Requirements PC – Check out the minimum and recommended Among Us system requirements for pc. Among Us Can I Run It? Read more below and test your pc specs to find out if you pass the system requirements Among Us.

Among Us
Play with 4-10 player online or via local WiFi as you attempt to prepare your spaceship for departure, but beware as one or more random players among the Crew are Impostors bent on killing everyone! Originally created as a party game, we recommend playing with friends at a LAN party or online using voice chat. Enjoy cross-platform play between Android, iOS and PC. Win by completing tasks to prepare the ship or ejecting all Impostors. React quickly to undo the Impostor's sabotages. Check the Admin map and Security cameras to keep tabs on other Crewmates. Report any dead bodies immediately to start discussion of who the suspected Impostor is. Call emergency meetings to discuss suspicious behavior. Vote to eject suspected Impostors.

Among Us System Requirements Minimum
OS: Windows 7, 8 and 10 (64-bit)
Processor: Pentium 4 / Athlon 64 3000+
Memory: 1 GB RAM
Graphics: Almost Any
DirectX: Version 10
Storage: 500 MB available space

Among Us System Requirements Recommended
OS: Windows 10 (64-bit)
Processor: Intel Core 2 Duo Series / AMD Athlon 64 X2 4000+
Memory: 1 GB RAM
Graphics: NVIDIA GeForce 8600 GT / AMD Radeon HD 3870
DirectX: Version 12
Storage: 500 MB available space

Overview Among Us System Requirements PC – Can I Run It?

Can You Run It: Among Us
Check if your PC meets the Among Us requirements with free, easy-to-use detection tools or enter your system specifications manually. Click the Orange button below to start with the requirements test.


Among Us Steam
Among Us download is available on Steam. Download link to Steam: https://store.steampowered.com/app/945360/Among_Us/


Among Us Gameplay (Video)

Nvidia / AMD Video Card Drivers
Always make sure to download the latest video card drivers on your computer. By downloading the latest video card drivers you reduce the chance of running into random errors and issues for your system. For more help with how to download video card drivers (Nvidia and AMD) on your computer use the Driver Updates section.

Among Us Screenshot
✅Can You Run It? If you would like to test and scan your current system requirements to check if you can run this game use the
Can You Run It Requirements Tool
.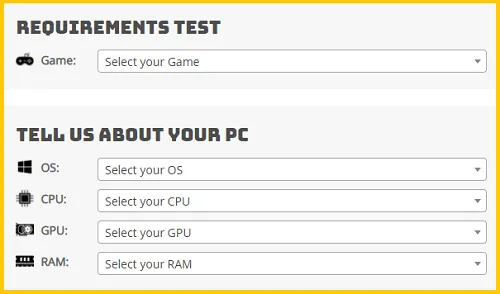 ℹMake sure your system meets the minimum requirements and minimum pc specs at least. Though it's recommended to have better specs than the minimum requirements so that the game runs more smoothly and can be played with higher in-game resolutions and graphics. Don't forget to check out our
Free Steam Games
list with all the best free steam games in 2022.