Assetto Corsa System Requirements PC – Check out the minimum and recommended Assetto Corsa system requirements for pc. Assetto Corsa Can I Run It? Read more below and test your pc specs to find out if you pass the system requirements Assetto Corsa.

Assetto Corsa
Assetto Corsa features an advanced DirectX 11 graphics engine that recreates an immersive environment, dynamic lighthing and realistic materials and surfaces. The advanced physics engine is being designed to provide a very realistic driving experience, including features and aspects of real cars, never seen on any other racing simulator such as tyre flat spots, heat cycles including graining and blistering, very advanced aerodynamic simulation with active movable aerodynamics parts controlled in real time by telemetry input channels, hybrid systems with kers and energy recovery simulation. Extremely detailed with single player and multiplayer options, exclusive licensed cars reproduced with the best accuracy possible, thanks to the official cooperation of Car Manufacturers.

Assetto Corsa System Requirements Minimum
OS: Windows 7, 8 and 10 (64-bit)
Processor: AMD Athlon X2 2.8 GHZ, Intel Core 2 Duo 2.4 GHZ / Intel Core i5-4460 or AMD FX-8120
Memory: 2 GB RAM (better is 4 GB RAM)
Graphics: AMD Radeon HD 6450, GeForce GTX 750 4GB, Radeon RX 460 4GB
DirectX: Version 11
Storage: 50 GB available space

Assetto Corsa System Requirements Recommended
OS: Windows 10 (64-bit)
Processor: AMD Six-Core CPU, Intel Quad-Core CPU / Intel Core i5-8600K or AMD Ryzen 5 2600X
Memory: 16 GB RAM
Graphics: AMD Radeon 290x, Nvidia GeForce GTX 970 / GeForce GTX 1070 8 GB, Radeon RX 580 8GB
DirectX: Version 12
Storage: 50 GB available space

Overview Assetto Corsa System Requirements PC – Can I Run It?

Can You Run It: Assetto Corsa
Check if your PC meets the Assetto Corsa requirements with free, easy-to-use detection tools or enter your system specifications manually. Click the Orange button below to start with the requirements test.


Assetto Corsa Steam
Assetto Corsa download is available on Steam. Download link to Steam: https://store.steampowered.com/app/244210/Assetto_Corsa/


Assetto Corsa Gameplay (Video)

Nvidia / AMD Video Card Drivers
Always make sure to download the latest video card drivers on your computer. By downloading the latest video card drivers you reduce the chance of running into random errors and issues for your system. For more help with how to download video card drivers (Nvidia and AMD) on your computer use the Driver Updates section.

Assetto Corsa Screenshot
✅Can You Run It? If you would like to test and scan your current system requirements to check if you can run this game use the
Can You Run It Requirements Tool
.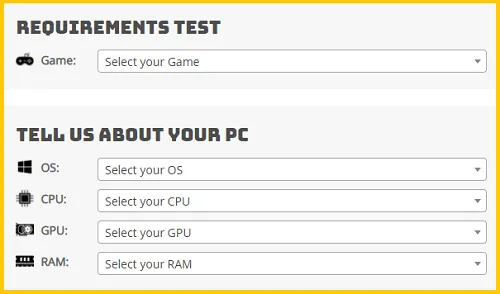 ℹMake sure your system meets the minimum requirements and minimum pc specs at least. Though it's recommended to have better specs than the minimum requirements so that the game runs more smoothly and can be played with higher in-game resolutions and graphics. Don't forget to check out our
Free Steam Games
list with all the best free steam games in 2022.